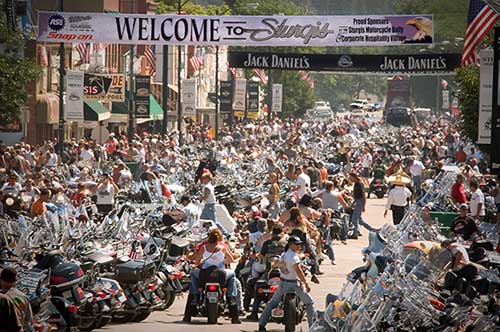 Sturgis Motorcycle Rally
The Sturgis Motorcycle Rally is a legendary American motorcycle rally held each year in Sturgis, South Dakota. For the first ten days of August, the rally and related events practically take over the otherwise quiet little town of Sturgis. It starts on the Friday before the first week of August and ends on the second Sunday.  Motorcycle enthusiasts from all over the world throttle into Sturgis to participate and enjoy this once a year event.
The Rally was started in 1938 by a group of Indian Motorcycle riders known as the "Jackpine Gypsies," who, to this day, still own and operate the tracks, hillclimb and field areas where the rally is centered. Originally, the Rally was held for stunts and races. Attendance has been around one half million people, reaching a high of over 700,000 in 2015.



The town of Sturgis is synonymous with motorcycles and motorcycle lovers. Visitors visit all year long looking for motorcycle-related businesses and attractions. After visiting the Sturgis Motorcycle Museum & Hall of Fame, they leave with a piece of motorcycling history.
Except for during World War II, the Sturgis Motorcycle Rally has otherwise been held every year.
Hotels in Sturgis    Dining in Sturgis